The villas are designed to provide privacy and give guests a sense of seclusion and tranquility. Due to the clever arrangement of the houses on the slope, each villa has privacy and is not directly visible from the other villa.
Both villas have the same interior design and floor plan, each having four double bedrooms and five bathrooms. Each bedroom has its own shower room.
The only difference between the villas is in their outdoor areas.
Villa 1 is located on the upper side and thus offers a particularly impressive view of the sea and spectacular sunsets. This villa has a large dining table with barbecue and outdoor kitchen, located right by the pool.
The natural stone villas offer not only luxurious interiors, but also spacious outdoor areas that further enrich the vacation experience.
In front of the living room there is a spacious balcony, which offers a magnificent view of the sea and the surrounding area.
This balcony is the ideal place to enjoy a coffee in the morning or admire the sunset in the evening. With enough space for comfortable seating, the balcony becomes the perfect place to feel the fresh sea breeze and enjoy nature.
Next to the balcony there is a chill-out lounge. This lounge nook is a relaxing and comfortable outdoor area perfect for sitting back and unwinding. Here guests can relax on a comfortable sofa, read a book or just enjoy the quiet atmosphere.
The combination of the spacious balcony in front of the living room and the side chill-out lounge creates various opportunities to enjoy the beauty of the surroundings and relax outdoors. Whether you want to enjoy the sea view or relax in the cozy lounge, the villas offer various outdoor areas for guests to enjoy an unforgettable vacation experience.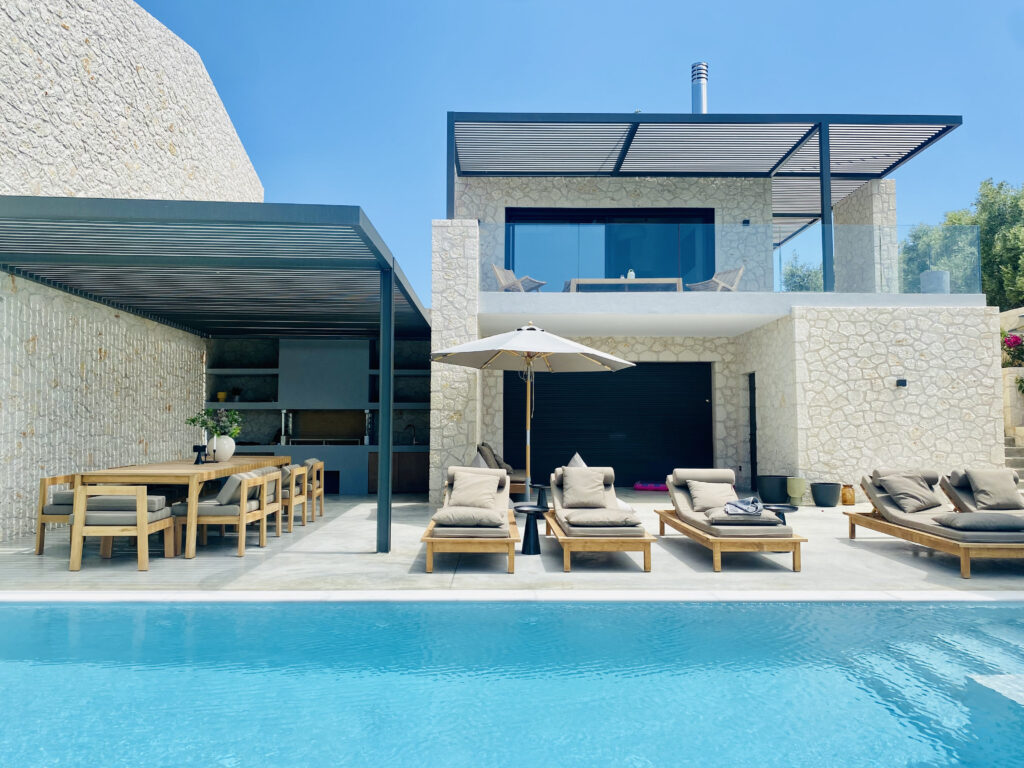 Availability
Prices start at: 528.64€ per night (+taxes and fees)
Reservation Form